Ecco la notizia da te scelta:
This is the new that you have choosed:
Aggiornamenti vari
Postata il 17-12-2014 22:59:45 da kain the supreme
News per la sezione: sito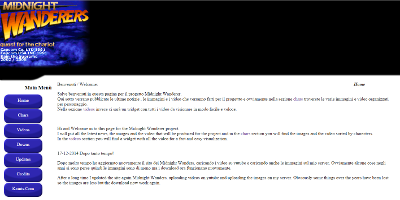 Salve a tutti!
Come vi va la vita?
Avevo promesso degli aggiornamenti e ho infatti deciso a farne qualcuno.

Parlo del sito del mio gioco per winmugen "Midnight Wanderers!" che ho aggiornato re inserendo tutti i video e tutte (o quasi tutte) le immagini mancanti.
E visto che c'ero ho pure aggiornato parte del codice sorgente del sito stesso.

Ho anche aggiornato il codice di questo sito e del sito dei MOTU cosi da poter condividerlo su facebook visualizzando un'immagine decente.

A presto per altri aggiornamenti (spero!).

English version:
Hello everyone!
How's life treating you?
I promised updates and I have in fact decided to make some.

I speak of the site of my game for winmugen "Midnight Wanderers!" I updated re entering all the videos and all (or almost all) the missing images.
And since I was there I also updated the source code of the site.

I've also updated the code of this site and the site of the MOTU so you can share it on facebook viewing a decent image.

Stay tuned for more updates (I hope!).



Torna indietro - Came back to the Archive: Back - Indietro