Ecco la notizia da te scelta:
This is the new that you have choosed:
Aggiornamento sito
Postata il 08-10-2013 15:32:53 da kain the supreme
News per la sezione: sito
Come potete vedere dall'immagine qui allegata ho aggiornato il sito aggiungendo una nuova sezione
Online Games
.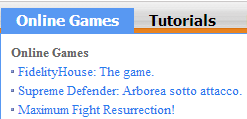 Per ora sono presenti i seguenti video games o browser game che dir si voglia:
FidelityHouse: The Game
Supreme Defenders: Arborea sottoattacco.
Maximum Fight Resurrection!
Spero di riuscire a portare a termine alcune "alleanze" e "cooperazioni" per svilupparne di nuovi e più impegnativi ma nel caso vada "male" vi accontenterete di quelli ideati dal sottoscritto.

Mi auguro che vada tutto al meglio e magari pure con un lavoro ma per ora incrociamo le dita e andiamo avanti.
A presto con altre novità e release(s) varie

Buona Giornata e Buona Vita!!!
Torna indietro - Came back to the Archive: Back - Indietro